Welcome to Laqshya Institute of skills training, one of the best institutes in the education sector having a practical training approach for various industrial skills training requirements. Laqshya is one of the top data science institute in Mumbai which provides the best Data Science course in Mumbai to students so that they can become experts. We provide classroom training for the data science training in Mumbai from which we create the industry needed expertise. Online course training classes facility with data science certification in Mumbai by Live Trainer also available, Real Time Doubts clearing with Online Study material, Online Test & Certification.You will also get video recording of each online class at the end of session. The Data Science Course fees in Mumbai offered by Laqshya, is the most affordable option in the whole city.
We at Laqshya covers the foundational topics in data science, as follows
• How to deal with Data Manipulation
• How to analyze Data with Statistics and dealing with various data
• Data Communication
• Working with Big Data and Hadoop
The data science certification course in Mumbai will focus on the topics briefly to understand by a layman. By this, you can get the chance to understand and apply the basic techniques of data science.. People who wants to learn data science classes near me, laqshya is the best solutions because we have Online Classes and classroom set-ups all over the City.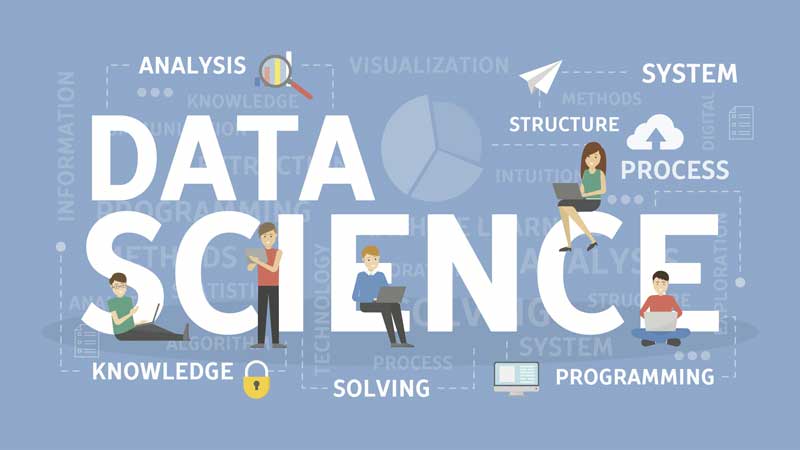 Data Science in Mumbai
Our Data Science training institute pays a lot of attention to the requirements of the by observing and researching the recent trending technologies. Data science courses in Mumbai is one such current trend that has increased demand in the current IT Industry. Data Science knowledge for which there are very few data science training institutes and here at Laqshya - data science institute in Mumbai, one can find the best Data science training Course. In current times every industry, domain, and organization are using Data science as one of the major tools for the business through Data Science in Mumbai.
The Laqshya Institute's Data Science classroom program is a 3-month program for fresher and professionals as well, for Data Science in Mumbai. This data science course is suitable for those candidates who are in the starting stages of their career and want to develop a career in data science. Our Data Science course fees are really at a very affordable ranges. After finishing the data science certification in Mumbai, you will be able to apply for jobs such as data engineers, and many others. Our students also get to experience hands-on application with the help of industry case studies provided by our expert faculties.
What is Data Science Course Fees in Mumbai ?
The Data Science course fees in Mumbai starts from Rs.25,000/- to more than Rs.1,00,000/-. This totally depends on the type of data science certification course in mMumba and the modules to be covered during the training. Also the fees will depend on how long it takes to finihs your course. One more factor to be considered is whether you want to take online classes for Data Science course, Class room training for Data science or you want one to one training for Data science course in Mumbai.
To understand the data science training in Mumbai, you need to know certain things about this industry. For the business world the collection and analysis of customer or client's data is a big deal. Companies, no matter what is its size, big or small companies, use large amounts of data collected from various sources, for e.g. logs, various social media accounts, and their archives. Then the team has to extract this useful data collection which then they apply to their business strategies. Laqshya offers Data science course details like big data hadoop course to work as a data scientist in such companies.
Before the invention of Data science, there was a traditional data scientists team are there in companies where they use a long descriptive and exploratory methods in order to identify performance and results. They need to consider both vast new and old data without having an idea about effects on future behavior. But now Data scientists have innovative predictive and prescriptive methods of data science. Instead of taking into consideration of old and new data, they concentrate on real strategies about all happenings, their reasons and their effect in the future, so that they can apply improved business planning. These strategies you can learn with our data scientist course.
In simple words, data science training in Mumbai consists of a pool of tools and techniques used to simplify and understand the data to make business decisions faster. You can learn this with the help of our data science course.
Big companies collect the data regarding the customer's behaviors and certain patterns, buying behavior, their likes and dislikes, reviews and many other factors. This collection of data and analysis helps the company to evaluate its marketing plans, increase sales, improve the products and services. This all can be done only with the help of Data Science. The skills to get such a job in any company you can enroll in our data science training after understanding all the data science course details.
In data science, data is collected, filtered, sorted and then visualized to find the hidden patterns, trends and get a predictive viewpoint. Data science comprises of many techniques and actions such as statistics, mathematics, computers, algorithms and some business. We, as the best Data Science Institute, make it a point to train our students, in simple ways for their better understand and help them master the concepts of Data Science. We at Laqshya Institute, help our students to develop a successful career in the field of data science certification in Mumbai.
Some of the main highlights of data science institute in Mumbai which you can consider about why data science has become so important in the organizations are listed as under :-

• Discover new challenges of the market
• Finding solutions for such Challenges
• To understand the customers' behavior
• Improvement in products and services
• exploring new trends
• Testing the key decisions
• Make profitable decisions for the company

Data science training in Mumbai and its benefits
Data science training in Mumbai works through automated methods to analyze large amounts of data and from that data it extracts important information and knowledge. Data science is the most important in areas like computer science, modelling, data statistics, and mathematics. Data science has invented to give a solution for the problem of data tangling which old so-called data statistics cannot handle. Data science mainly focuses on extracting, storing, assuring data quality, understanding and communicating information for better decision making.
Business organizations need a tremendous amount of data and this data can be collected from various social media, weblogs, various business applications, and the general web is expanding fast, data science extracts important data from these datasets for business decisions. In today's age, lots of companies and small as well as large organizations are realizing the importance of data science and Artificial intelligence..
How Data Science Training Classes will boost my career?
Lots of employments are emerging for Data Scientist in India, which are giving huge chances who want to become a Data Scientist. If we check Jobs vacancies on the top Indian Job seeking portals, it shows more than 25,000+ jobs are there in India just to serve Data Scientist. Same on LinkedIn one of the top job finding a site in the whole world, more than 14,000+ jobs are available in India for Data Scientist role.
As per the statistics, 2018-19 there were 4 million job openings just in our country and its increase in 2020. All companies of all sizes need Data Scientists which will grow and can never decrease. In reality, the situation is that according to recent reports by surveys, India has more than one lakh job in data science and big data, which are vacant and for now recruiters don't have enough talent to fill them. By identifying this need, we at Laqshya, have designed special Certified Data science course to skill up the talent and knowledge of candidates.
Top leading organizations like Amazon, Citi, HCL, IBM, JPMorgan Chase, Accenture, KPMG, E&Y, CapGemini have a lot of vacancies for this new technology. Same as these start-ups companies like Ola cabs, Uber and e-commerce companies like Snap deal, Flip kart, Amazon, and Product based MNCs like Microsoft, VMware, Honeywell and also Service based analytics companies like Mu-Sigma, Vizury, Fractal, Impetus, TCS are hiring for Data Scientists.
In India there is a huge requirement of skilled profiles like Data Scientist, Big Data Engineer, Statistician are largely searched by companies which are not only giving handsome salary but a promising career in this field. As per the leading newspaper, The Hindu, 75% of companies are planning to invest in Data Science and in big data in the next two years.
For the next 3 years, our country can face a situation where there will be a shortage of 2 lakh data scientists. For better understandings, as we compare data scientists and Engineers with same experience around 4-5 years, Data Scientists can earn 75 lakh per annum.
Sata science Course Details
Eligibility - Any Graduate / Any Undergraduate
Duration - 4/6 Months (6 Hrs. per week)
Basic Training starting with fundamentals

Advanced Topics covered with examples

Live Projects & Assignments

100% Practical Training

Home Assignments for Practice

Course delivery through industry experts

Free Notes and Study Material

Fast track and Sunday Batches available on request

Additional Sessions for Doubt Clearing

100% Placement Assistance to students

Data Science Certification Course

For Detail Course Contents kindly Download our brochure from Brochure Download Button

Sample Copy of Certificate awarded by us after clearing our Assessment Exam
Certified Data Science training classes in Mumbai
We provide classroom training for data scientist courses with practical sessions with an option to choose training batches from weekdays and weekends. Laqshya Institute of Skills Training provides special training from trained faculties for students as well as working professionals.
Our Certified Data Science course will help the students to gain the right practical knowledge with live projects after which students will be industry ready to work in. These factors make Laqshya one of the best Institute in Mumbai for practical learning
Syllabus for Data Science Course
After completing practical course, student's chances to get selected in any job interview will increase. Our syllabus is mostly based on practicals. For more knowledge we at Laqshya assigns the Live Projects to make students getting ready for real time corporate work. Laqshya Institute of Skills Training helps students with 100% Job Assistance with our special placement cell.

Key Highlights for Certified Course -
• Trained faculties & trainers
• Limited Batch Size
• Assignment of Live Project
• 100% Job Assistance
• Study Material & Notes
• Assessment of the students
• Interview Skills Training
1. Python Programming ( With Full Course )
Syntax and Semantics of Python programming | Conditional statements | Loops | Iterators | User-defined functions | NumPy | Pandas.
2. Database programming with SQL
Introduction : Data vs. Information, History of Database, Major Transformations in Computing | Entities, and Attributes: Conceptual and Physical Models, Entities, Instances, Attributes, and Identifiers, Entity Relationship Modeling and ERDs | Relationship Fundamentals: Relationship Transferability, Relationship Types, Resolving Many-to-Many Relationships, Understanding CRUD Requirements, Anatomy of a SQL Statement | SELECT and WHERE: Columns, Characters, and Rows, Limit Rows Selected, Comparison Operators | WHERE, ORDER BY, GROUP BY, HAVING and Intro to Functions: Logical Comparisons and Precedence Rules, Sorting Rows, Introduction to Functions | Single Row Functions: Character Functions, Number Functions, Date Functions, Conversions Functions, General Functions | Joins: Cross Joins and Natural Joins, Join Clauses, Inner versus Outer Joins | Data Manipulation Language (DML) : INSERT Statements, Updating Column Values and Deleting Rows | Data Definition Language (DDL) : Creating Tables, Using Data Types, Modifying a Table | Constraints: Intro to Constraints; NOT NULL and UNIQUE Constraints, PRIMARY KEY, FOREIGN KEY, and CHECK Constraints, Managing Constraints | Views: Creating Views, DML Operations and Views, Managing Views.
3. Statistics for Data Science
Datatypes and its measures : Random Variables and its applications, Introduction to Probability with examples, Sampling Techniques – Why and How, Measures of Central Tendency- Mean, Median, Mode, Measures of Dispersion- Variance, Standard Deviation, Range, Measures of Skewness & Kurtosis, Normality tests for dataset, Basic Graph Representations- Bar Chart, Histogram, Box Plot, Scatterplot, Probability Distributions | Continuous Probability Distribution : Normal Distribution, Standard Normal, Distribution ( Z Distribution), FDistribution, Chi-Square Distribution | Discrete Probability Distribution : Binomial Distribution, Poisson Distribution, Building Normal Q-Q Plot and its Interpretation, Central Limit Theorem for sampling variations, Confidence Interval – Computation and analysis, Data Cleansing (Dealing with Missing Data, Outlier Detection), Feature Engineering (Label Encoding, One-Hot Encoding), Data Transformation, including merging, ordering, aggregation, Sampling (Balanced, Stratified, ...), Data Partitioning (Create Training + Validation + Test Data Set), Transformations (Normalization, Standardization, Scaling, Pivoting), Binning (Count-Based, Handling Of Missing Values as its own Group), Data Replacement (Cutting, Splitting, Merging, ...), Weighting And Selection (Attribute Weighting, Automatic Optimization), Imputation (Replacement of Missing Observations with Statistical Algorithms)
4. Research methodology
Formulating a hypothesis statement (NULL and ALTERNATE) | Type-I and Type-II Errors, P-Value, Level of Significance | Parametric Tests: One Sample/Two Samples T Test, One Sample Z Test, Paired T Test, One-Way ANOVA, Chi-Squared Test | Non-Parametric Tests: One Sample Sign Test, Mann-Whitney Test, Kruskal-Wallis Test
5. Linear Algebra
Motivation – Why to learn Linear Algebra? | Representation of problems in Linear Algebra : Visualizing the problem: Line, System of linear equations, Planes | Matrix : Terms related to Matrix, Basic operations on Matrix, Representing in Matrix form | Solving the problem : Row Echelon form, Inverse of a Matrix | Eigenvalues and Eigenvectors : Finding Eigenvectors, Use of Eigenvectors in Data Study: PCA algorithm | Singular Value Decomposition of a Matrix
6. Machine Learning Modules
Module 1 - Supervised ML – Part - I (Regression Analysis) : Correlation Analysis, Correlation Coefficient | Introduction of Regression, Principles of regression | Simple Linear Regression Analysis | Splitting of Dataset into Train, Validation and Test data | Understanding Overfitting (Variance) vs Underfitting (Bias) | Generalization Error and Regularization Techniques | Multiple Linear Regression Model | Model Adequacy Checking | Transformation and Weighting to Correct Model Inadequacies | Diagnostic for Leverage and Influence | Generalized and Weighted Least Squares Estimation | Indicator Variables | Multicollinearity, Heteroskedasticity, Autocorrelation | Polynomial Regression Models | Poisson Regression Models | Variable Selection and Model Building
Module 2 - Supervised ML – Part - II (Classification Analysis) : Two-Class Classification : Logistic Regression, Neural Network, Decision Tree, Random Forest, Naïve-Bayes, Support Vector Machine(SVM) | Multiclass Classification(MC) : MC-Logistic Regression, MC-Neural Network, MC-Decision Forest, K-Nearest Neighbor(KNN) | Anomaly Detection | Case Studies I, II, III, IV & V
Module 3 - UnSupervised ML : Partitioning Clustering | Hierarchical Clustering | Clustering Validation and Evaluation with K-Means Clustering : Assessing clustering tendency, Determining the optimal number of clusters, Clustering validation statistics | DBSCAN: Density-based Clustering | Dimensionality Reduction with Principal Component Analysis(PCA) | Association Rule Learning and Recommendation : Apriori Algorithm, Frequent Pattern Growth | • Case Studies I, II & III
7. Model performance assessment in ML
Model Performance Assessment | Confusion Matrix | Precision | Recall | F1-Measure | Accuracy | Error Measures | Mean Squared Error(MSE) | Root Mean Squared Error(RMSE) | Hyper Parameter Optimization/Tuning | Grid Search | Randomized Search | Cross-Fold Validation Techniques | Leave One Out | K-fold | Stratified K-fold | Stratified Shuffle Split | Ensemble Methods in ML | Bagging and Random Forests | Gradient Boosting | Optimized Distributed Gradient Boosting (XGBoost) | Adaptive Boost (AdaBoost) | Voting Classifier
8. Data visualization tools and techniques
Data Visualization with Matplotlib, Seaborn, Tableau | Relational Plots, Relplot, Scatterplot, Lineplot | Categorical Plots, Catplot, Stripplot, Swarmplot, Boxplot, Violinplot, Barplot, Countplot | Distribution Plots, Jointplot, Pairplot, Distplot | Regression Plots, Lmplot, Regplot, Residplot | Matrix Plots, Heatmap, Clustermap | Tableau Products and Usage, Basic Charts on Tableau, Connecting Tableau with Multiple Sheets and Data Sources, Tableau Filters and Visualization Interactivity, Interaction and Grouping Data, Time Series Chart, Maps and Images in Tableau, Advanced Charts in Tableau and Analytical Techniques, Calculations on Tableau, Tableau Integration with Other Tools
9. Natural language programming
Natural Language Processing - What is it used for? | NLTK Exploration, Word Tokenization, Different Types of Tokenizers, Bigrams, Trigrams & N-grams, Stemming & Lemmatization, Stopwords Removal, Part of Speech (POS) Tagging, Named Entity Recognition | Bag of Words | TF- IDF Vectorizer | Co-occurrence matrix | Text Similarity/Clustering | Latent Semantic Analysis(LSA) | Topic Modeling | Latent Dirichlet Allocation (LDA) | Text Classification - Sentiment Analysis | Recommender Systems - Collaborative Filtering
10. Time series data study and forcasting
Introduction to Time Series Data | Correlation And Autocorrelation | Components of Time Series | Visualization Principles - Scatter Plot Time Plot and Lag Plot | Auto-Correlation Function (ACF)/ Correlogram | Naive Forecast Methods | Errors in Forecast and Its Metrics | Model-Based Approaches | Linear Model, Exponential Model, Quadratic Model | Auto Regression (AR), Moving Average (MA) | Autoregressive Moving Average (ARMA) | Autoregressive Integrated Moving Average (ARIMA) | Additive Seasonality | Multiplicative Seasonality | Random Walk | Smoothing Techniques | Moving Average, Exponential Smoothing | De-Seasoning and De-Trending
Apart from the above-metioned syllabus for data science course, we also provide some addon sessions like mock interviews, oral and written test practice, LIVE projects and Internship offers. However, job placement support is available for all the students who successfully finish their training classes. We also help every student for their extra doubts clearing in our scheduled doubt clearing sessions.